Our market is an open-air market featuring produce, baked goods, and local vendors, with an emphasis on buying fresh, local and handcrafted. Market vendors are from within a 120 mile radius of Hermitage.
Double up food bucks! We match up to $25 a week. SNAP $25 we match $25 for fruits and vegetables!
Kids 18 and under eat FREE every Friday at the Hickory County Farmers Market!
Adults only $5 (see menu below.)  
There's always plenty of parking, public restrooms and lots of seating. We even have playground equipment for the kids. It's the place to be on Fridays thru October!
Come enjoy our NEW community herb garden.
BE SURE TO COME OUT ON FRIDAY, OCT. 18 TO ENJOY THE BIG CHILI COOKOFF!
Want to compete in the cookoff? Call the Health Dept. Office -(417) 745-2138 - for details on how to enter. 
Friday, October 11
Produce for the week: Pumpkins, tomatoes, squash,zucchini, peppers, apples, apple cider and mums.
This week's vendors:
Botanical Basics Handmade Soap
Circle F Farms and Greenhouse
DoTERRA
Fly 3 Beef Ranch
Gardener's Orchard
Hayes Bakery
Hemp Worx
Lea's Authentic Egg Rolls
Powell House BBQ
South 40 Pork Farm
Storment Apiaries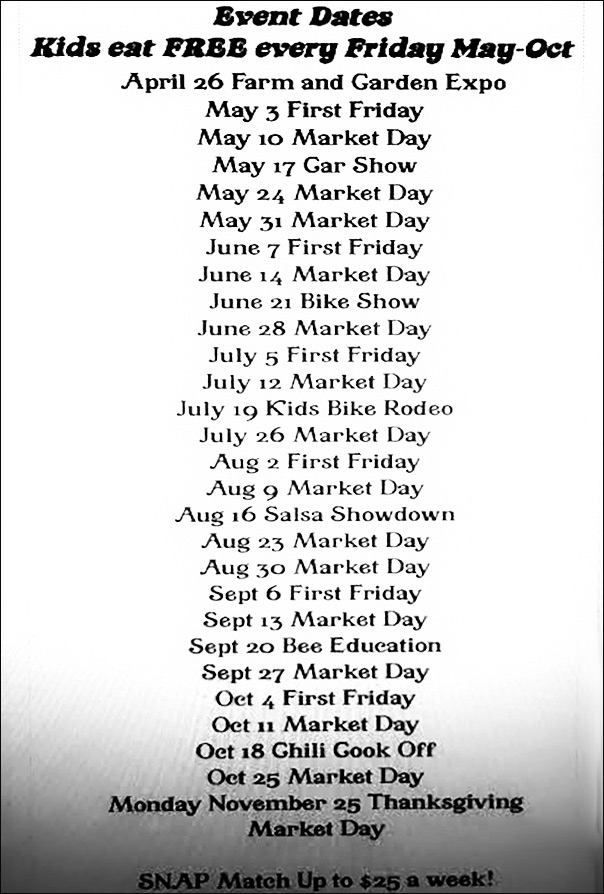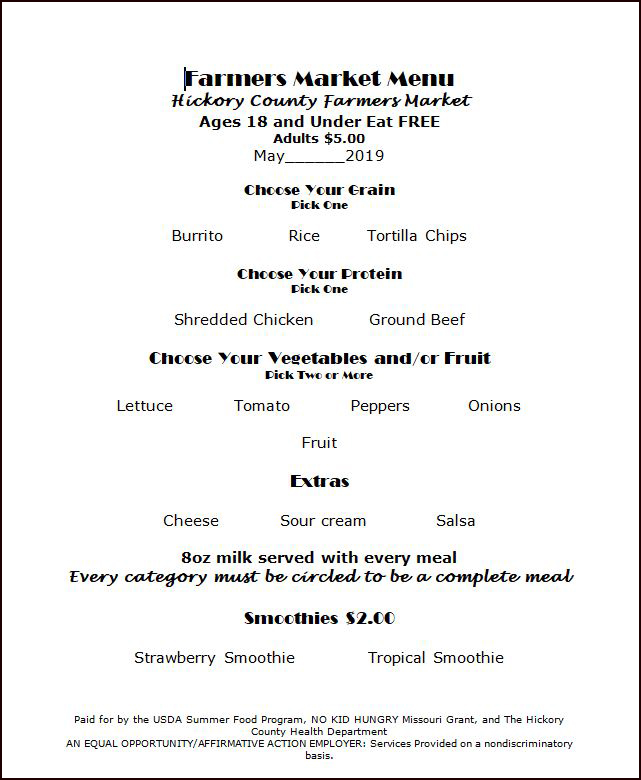 Attention, Farmers, Crafters and Vendors!
It's not too late to sign up as a vendor for the 2019 Farmers Market! 
We are accepting applications for new vendors who sell produce, meats and animal products, select crafts, and prepared foods such as baked goods or canned items. We are also accepting food truck applications.  For more information call us at 417-745-2138.
Ready to join us? Find the Market Rules and Applications here.
Interested in Renting the Food Concession Stand at The Market in 2019?
Sign up now and get your pick of Fridays! It's a great opportunity! Call Melissa at 417-399-7627 to learn more and sign up today.
Farm-To-School
Hello, Farmers and Ranchers! Are you looking for a new wholesale market for your products?
There is a vast untapped market near you: LOCAL SCHOOLS. There are area schools interested in finding out how they might be part of the ever growing farm-to-school movement. These schools are interested in discovering how to produce local agricultural products so they can incorporate them into their food service.
We want to help facilitate the farm-to-school plate process. By working... together and pooling our resources we can get organized and start supplying some of the food needs for our schools.
You may think your farm is too small to sell into the market. Our goal is to accommodate all farm sizes, with the ultimate goal of creating a strong local market for farm-to-school products that will help increase economic opportunities for farmers in our rural community.
Please contact us if you are interested in learning more and/or getting involved in this farm-to-school effort. Call the Hickory County Health Department and ask for Dawn at 417-745-2138.
The Farmers Market Commercial Kitchen
It's now fully ready for your use! Want to learn more and apply to cook in the commercial kitchen? The agreement is here. 
Need more info? Call Dawn at 417-745-2138.