Interested in Renting the Food Concession Stand at The Market?
It's now available for the rest of the season. It's a great opportunity! Call Melissa at 417-399-7627 to learn more and sign up today.
Market News for Friday,  August 17
It's Silly Veggie Contest Time!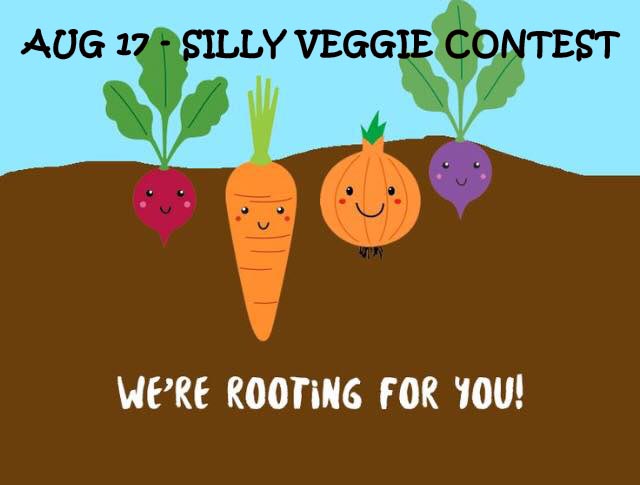 This week's vendors:
31
4G Green House
Bargains for kids
Botanical Basics
Doterra Essential Oils
Flying 3 Ranch
Gardener's Orchard
Hayes Family Farm and Bakery
Jesus Freaks Farms
Lemonade Stand
Master Gardeners
Norwex
Powell House BBQ
Simply Sinful Cakeballs
Younique
Attention, Farmers, Crafters and Vendors!
We are now accepting applications for new vendors for the 2018 Farmers Market. You may sell fresh produce, meats and animal products, select crafts, and prepared foods such as baked goods or canned items. We are also accepting food truck applications.  For more information call us at 417-745-2138.
Ready to join us? Find the Market Rules and Applications here.
Farm-To-School
Hello Farmers and Ranchers! Are you looking for a new wholesale market for your products?
There is a vast untapped market near you: LOCAL SCHOOLS. There are area schools interested in finding out how they might be part of the ever growing farm-to-school movement. These schools are interested in discovering how to produce local agricultural products so they can incorporate them into their food service.
We want to help facilitate the farm-to-school plate process. By working... together and pooling our resources we can get organized and start supplying some of the food needs for our schools.
You may think your farm is too small to sell into the market. Our goal is to accommodate all farm sizes, with the ultimate goal of creating a strong local market for farm-to-school products that will help increase economic opportunities for farmers in our rural community.
Please contact us if you are interested in learning more and/or getting involved in this farm-to-school effort. Call the Hickory County Health Department and ask for Dawn at 417-745-2138.
The Farmers Market Commercial Kitchen
It's now fully ready for your use! Want to learn more and apply to cook in the commercial kitchen? The agreement is here. 
Need more info? Call Dawn at 417-745-2138.